We've been discussing a stove made from a cocktail shaker..I finally found the perfect smaller container to make one..Cointreau's smaller version(12 oz capacity is a nice setup that has a spring-clip around the outer cup that has holes in it that line up to make three different cocktails!..but better yet,holds the outer cup on nice!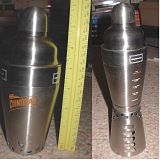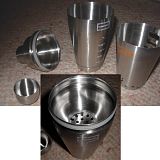 4 pieces make up the set,the cap that has a capacity for 5 teaspoons(a shot,coffee measurement,cap),the main cup that tops out at 12oz,the outer cup(I may need to drill a ring of holes around the bottom..once i've tested it)That could feasibly be used for a small wood fire also or hold your favorite "Dan" stove(2-7/8" bottom edge diameter,up 1-1/2" it's 2-1/2" diameter),and the larger cap which could be inverted and fitted with a smaller paper coffee filter for making coffee.
Keep in mind that it can still be used for its original purpose.Recipes on the cup are for a sidecar(all aboard!),a cosmopolitan(for the city slickers!),and an original margarita(okay..I'll have one of those!)
The inside is open space for 5-1/4"(space for spork,stove,coffee,booze..whatever) and the 4 piece set is all stainless(except a silicone(?) seal ring on the filter portion)weighs 6-1/2oz.