Of course a ridgerest makes a fantastic windscreen too.
---
I have seen the wind blow over a sleeping mat, right into the flames. No thanks!

In the past, I have considered the Suluk titanium windscreen.

I have been satisfied with the EZ Fold Windscreen.

The windscreen you provided ends loop over the support uprights, making a more secure windscreen and a more secure design for the windscreen and for the windscreen support for an upright stove.

Montana has wind: I will burn wood in real conditions to give you a report.

I'd bet it is a challenge to make that loop. How about bending it over a wire, you pull out?
---
zelph
,
I heard you put a fire screen in the bottem? What, where and how?
---
What: 1/4" stainless steel mesh

Where: even with the top of the holes.

How: Cut it a little smaller thean the diameter of the bottom of the stove and force it upward till it gets to the top of the holes. It's kinda arched in the middle. Concave looking at it from the bottom of the stove.
http://www.woodgaz-stove.com/
---
I like it.

Where to find 1/4" stainless steel mesh?
---
I bought a used 1.4 liter evernew ti pot with the frying pan lid and really like the size. The stove fits easily inside even without the extra height of the frying pan lid.
I boiled 4 cups this afternoon with a small water oak limb.
My family voted to change the name of the stove to the
Rock Stove
.
---
Here is the Vargo Titanium 750 Sierra and windscreen.
As you can see, this cookware is protected by this windscreen.
Here is the GSI Halulite Tea Kettle.
---
ConnieD wrote:I like it.

Where to find 1/4" stainless steel mesh?
Cadyak has lots of it
Let's ask him to include it with every stove
Mine I got on ebay many moons ago.
Connie, when will you put the fire to your stove to make it a pretty blue?
Look at the size of the twigs I used for my test burn.
BIG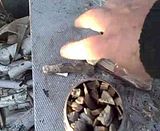 http://www.woodgaz-stove.com/
---
I will wait for the screen. I am sending my stove back for the alcohol stove modification.

I don't want to burn up the fire pan. I can't find parts for anything around here. Everything is plastic.

I would think those fat sticks would make too much fire. I plan on tiny twigs, no bigger than a pencil.

The containers I use (as shown) only hold 3 cups water and headroom. I don't need a bonfire.
---
No bonfire just a long burn time. Get the water heated and then sit back and watch a few flames while the coffee brews
http://www.woodgaz-stove.com/
---
---
Return to "WOOD BURNING STOVES"
Who is online
Users browsing this forum: No registered users and 1 guest