4 big holes = less resistance, more air flows into holes, more the focus of flames.

Lots of small holes = lots of resistance, therefore air goes up and over the top rim of stove instead of through holes, less focus.
Thanks for that. I will be continuing my simple pellet burner designs and experiments - for sure the big air holes seem best. But I am also fascinated by the small jets/radial pattern approach. If that can actually work pretty good, it won't be a minimalist sorta stove! Something one or two orders of magnitude more complex, using 3 or 4 cans, does interest me. Though simple is better seems to often turn out to be best, whatever the scope of the project.
I know this isn't exactly revelatory
but I'm getting a lot of use out of this pellet burner/stove: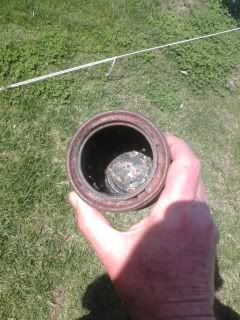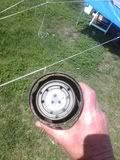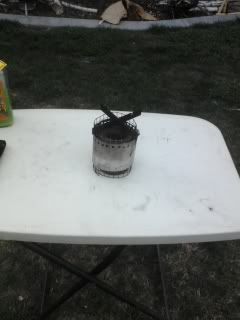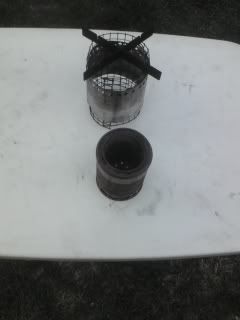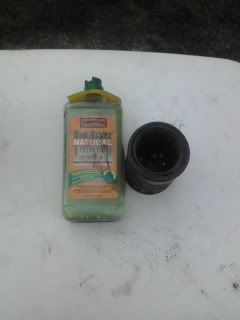 The outer can is left over from my first Everything Nice attempt. The inner can used to just sit under the outer, with three screws to lift up the bottom for ventilation; last week I looked at these 'left-over' parts, and decided to compression fit the inside into the outside, if only for the tinsmithy practice. It doesn't need to be set on any 'riser'-like thingee, because the inner can hangs in the outer, off the deck. I think the radial flame pattern benefits from the double wall construction: I'm dubious about the 'heating the secondary air' notion, but the outer wall does isolate the inner jets from outside wind. There is a nice flame cap, it is possible to add a bit more pellet fuel to extend the burn, without putting the fire out, which is sometimes nice. it's about the right size to 'light and forget' for cooking rice, or a small artichoke, or other things, which is convenient. At flame-out, there's a bit of smoke for several seconds, but it does transition to glowing charcoal fairly well, doesn't become an irritating smoke bomb. Not so good as the 'engine' in the charcoal lighter 'stove', though, it sort of runs away. Fun, useful, not any sort of convincing evidence of the superiority of double wall stoves.
Today I visited a sporting goods store, was pleased and surprised to find this:
Though I'm mostly interested in pellet burners lately (BTW, Zelph, I sure like the mini-charcoal lighter stove of yours, with the central ventilation !) I've been wanting a light weight but decent quality pruner for some time - I recon this is it! Has a ratchet mechanism, Gerber should be pretty good quality, and I only paid $15.
I've pretty much not been using my Trekstov(s) or BB, cuz it's easy to make tin can pellet burners that do better - not to say they're better stoves. But I will be camping where there is , what to call it, Wild Forest.?. and I suspect that while there can be single wall stoves that will do good with both pellets and twigs, there can be pellet burners that just aren't big enough or vented right for wood...
or something....
Well, I know this is still pretty wordy, a bit thin on serious information; honestly, this post and maybe a couple more are sort of practice for getting used to photobucket- and I'm aware I have not tried some tricks that I've been told about. Still getting my sea legs, the information quality-density will improve soon. Sure feels good to show some pictures. Hey, I hope it's not as frustrating and time consuming when/if I start doing videos.
Part of the frustration has been, the otherwise pretty wonderful Imac doesn't 'bluetooth' very reliably (to be diplomatic about it!
) with the Rumor2 cell phone I have. So I got a micro-sd, which does work; it would sure be easier if Bluetooth would function as it should. Not sure if the problem is the computer or the cell phone...