Interesting concept and parts!At some time in the past(age unknown) was made locally here in Seattle..found in a thrift store today!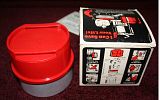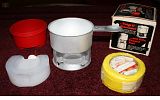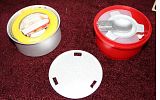 Packed up is 4"diameterX3-5/8" high..Weighs 10-1/2oz with
everything
..That "
everything
" includes a plastic cup,metal pot,windscreen,stove bottom plate,liquid fuel holder,spoon/pot handle,special shaped fuel flask,6ft tube tent,broth packets,sugar packs,distress whistle,book of matches,and survival instructions.You can use liquid fuel in a special holder,hexa mine,trioxane,or esbit tablets,wetfire,sterno cans,and even burn twigs and pinecones.It has a loop that attaches to your belt(belt loops built into the bottom of the cup) and even floats.
The only problem I found with it was trying to get it all back together again..
Even the flask has a recessed area for the liquid fuel holder and a flat area for the handle of the spoon/pot handle..It's a well thought out package!It even says the center joint is watertight enough to use it as a canteen..It's surprising they never really caught on. :shock:At some point it was an "As seen on TV" sold item for $14.95 with the inner survival pack sold separate..reduced to $9.95 and the survival pack was added back up to $14.95.It's got a $5 coupon(no expiration date!!) inside for another one and an address..
..Maybe I'll go knock on his door..
EDIT:For anyone interested in the stove parts/flask/cup/potholder/spoon(everything but the emergency pack inside)..the weigh is 162grams...just under 6oz...and half the area inside would be empty for a stove.matches,hard fuel or other small items(flask takes about 1/2 the space..leaves approximately 1-1/2" high by 3-3/4" diameter empty inside).
Okay..reading the instructions..you need aluminum foil for a "lid" for the pot(Uh..don't use the plastic cup)..The bottom metal stove piece's tabs fits nicely around a large sterno can with the windscreen fitting the sterno can's top slots..when using that for fuel.