Here's my entry..called Tinney's Rosebud.
This is a two stage jet burner with a preheater smaller flame that boils the fuel and pressurizes the upper secondary brass pot.
Results are good with a boil time of 16oz water in just over 4 minutes with 3/4 oz Heet(and a 1/4oz in my preheater that has a lot left)..Overall burn time is about 6 minutes with 2 minutes of that a really hard boil.(NO MINIBULLSH*T!
)
This is made from a small brass kerosene lantern tank(no glass..$1.50) that has the wick area closed off(bolt,nut washers, and jbweld) and 16 tiny jets drilled around the perimeter of the potstand..works well on 4-5" pots.The preheater is a brandy sniffer warmer that will also work for a simmer mode or for its original purpose(warming brandy..
)on the trail.Since I like baking, I needed something for simmer mode anyway.A teacandle could be a suitable replacement but this works on the same fuel and is adjustable by just pulling out more wick.Upper stove stand is the infamous curtain hook!
Anyway..it reminded me of Tinney in a lot of ways so therefore I figure I better name it after him..or an appropriate portion of him..
In his honor:It takes a while to bloom,but once the boil starts on the alcohol it spews forth heavy flammable gases.The more heat below,the hotter it burns above.As you can see,it doesn't burn well on "bad fuel" (from pouring it back and forth into the bottle while adjusting the jets to get the flame more under control).I started with only 8 jets but it shot flames too far,hard to light,and spewing forth so far it kept blowing itself out.I doubled the jets.It burns low until a pot is placed on top,then it really takes off!
Anyway..Thanks,Tinney.. for inspiration!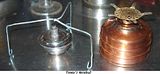 I'm looking for a decent brass replacement for the curtain hook that will rest under the edge of the upper pot.A fancy feast can isn't brass and the lip is the same diameter as the bottom of the upper burner rim but it would work...Oh well..keep on looking...
I might try the infamous "priming pan"
..instead of the lower burner to see if it'll keep torching without that going..more experimenting might give better results..but I do like the boil time!