Posts: 5278
Joined: Wed Sep 19, 2007 9:08 pm
Location: SW, Ohio
Contact:
"Many of lifes failures are people who did not realize how close they were to success when they gave up".....Thomas Edison
"
Live Life....Love Life....Ask More !
---
thanks, but i'll make a new post for the August entry. probably do it tomorrow, after i re-do some of the testing. too damn hot and humid this evening.
"I'd rather be happy than right." Slartibartfast
---
Dam i cant find were i posted this but yes it is a pencils box .1/2 oz. fuel burn time 7 min. water temp. at start 56F.At 7 min flame out 16 oz. water 192F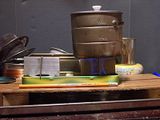 Ok here is the video its been inproved from the first one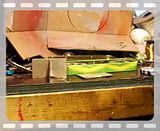 Man play with fire man get burnt
---
beautiful.
where do all you guys get that fb mesh? I used fb tape as a temporary solution til i find a source for non-bulk ss mesh, but the fb mesh flakes apart after a few burns.
Frank
---