Gaz stoves..or ones that use the puncture type canisters--->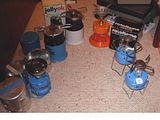 The left two are probably one of the best units called the Gaz Globetrotter..nice package.. shown open and closed.The container is the pot,eating/drinking cup and handle.
The next three are the Instaflame(GAZ) and the JollyOK(Italy),both with igniters..and the RotoFlame(Israel).
The two on the right are the more common GAZ Bluet S200 and 206..I think I have two more of those at the other house and a couple canisters in case i get lazy or hike with partner.