I spent a lot of today trying out different configurations of using a super lightweight tent with a hammock tarp partially suspended over the tent for more room,a better covered entry(especially if water can go in your tent with the door open!)..here's some pictures and variable for pitching..and the original 1lb-13oz tent: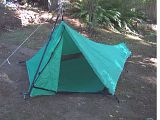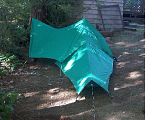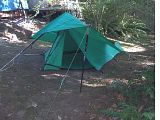 This tarp is the one I made with the optional drop down corners on two corners(some pictures show them tied up).I'm thinking of adding the other two corners;pretty handy for more coverage with minimum weight added,when wanted,straightout or down..lots of options!The pitches shown are all different with different coverage here and there only adding my second leki trekking pole(modified 90 degree whacked-off handles),some using the same tie-outs as the tent,others using more stakes,etc..etc..just some ideas of what you can gain as far as covered areas for cooking,gear storage,shade,whatever with a minimal amount of weight gain..as our weather gets worse here in the PNW....Just something to think about!
I can pitch the tarp over the entire tent for double wall protection(and more side protection) if needed also.Total weight of the tent,tarp,stakes,17 stakes,one small pole(not counting the treks) is right at around 3lbs.