Okay,I did!..still haven't slept in the first one..guess I'll just hang it in the yard but steal its fly for this one.I have some mods I want to do to that fly..add "roll-up" doors so it'll be dual purpose and the whole nine yards can be pitched as a tent also.I need to add two "corner doors" to the old fly to make it dual purpose with using trek poles,pitched on the ground(with a footprint) where I don't have trees because of where I hike.I'll post some more pictures after that is done.
Added features as shown with the pictures below..I still need to add the DVD player shelf in the foot and the popcorn machine.
..Pretty comfy!..especially with the built-in thermarest pocket.It's deep but lies flat...Low zipper makes sitting more comfortable than sitting over a high hammock side.Front half of the bug mesh opens up and can be thrown/tied back/rolled over the top ridge line.I did make up a gear shelf "hammock" for underneath also about 6'x2'wide,used 8 yards+ about 1 more lineal for the thermarest pocket inside.(by 45" wide stuff).Full lengthThermarest pocket is actually 2 pockets with a corner cut out for the valve and about a 2" gap in the middle for folding the pad in half and slipping it in and out really easy(in case a person wants to use the pad for a chair also....).I might add another row of pockets/velcro spots on the other side,for use while sitting,or just for more "stuff".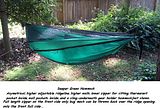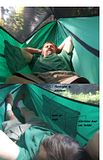 I started a few hours each day tuesday-thursday last week..didn't work on it friday-sunday..then a few more hours yesterday and today...
This is an "IR STEALTH HAMMOCK"...it's green;it isn't shiny;and the wife still doesn't know about it!