NOT!
I had to head up north a couple towns and "order" more Eveedents for the bogus carpool ticket from the Washington State Patrol..Figured I better hit the thrift stores there while I was at it..SCORE!
I found my personal "Holy Grail"..the item I've dreamed of finding but assumed the chances of finding it were one in a million,especially since it's made in Camden,Maine at the opposite end of the US world from Seattle!
MOSS one man bivy tent
..probably used only a couple times,if used more than once..very clean and the fabric doesn't stick and barely any polyurethane smell at all.Made in 1979(by the tag inside).
Unique design with a couple flaps over mesh on both sides,polyurethane pan floor and back end.Damage,the front has two tiny holes in the bug screen,the largest being a tear about 3/4"x1/16" and the other a round hole less than a 1/4"..other than that everything is in excellent condition.This only uses two anodized aluminum shockcorded poles,one full length along the top and one 1/2 bowed across the entry end.
This is a rare one..never have seen it before anywhere around here or on the net.I thought their "one man" tent was larger and a totally different shape.Inside is about 36" wide and about 8' overall..didn't really measure it.If you roll the fly up on both sides,you could stake it out with 3-4 stakes..otherwise I'd use 6 for the fly(3 on each side) and 6 for the tent(3 at each end).
Everything in the original stuff sack(along with the pole sack and stake sack)..weighs right on 3lbs.(2lbs 9oz without stuff sacks)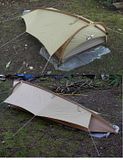 Am I going to use it?...NO!It's an heirloom!
..But I will be taking dimensions and making a copy for use...