I used a Fancy Feast cat food can to make this stove. Potstand is built in. No primer pan or wick wrapped around it is needed. Lights easily in frigid temperatures
Weighs 24 grams/ 0.843 ounces, 2-1/2 inches in diameter, 2-1/4 inches tall
Fuel capacity is 3 ounces
Boils 2 cups of water in 6.5 min using 1/2 ounce denatured alcohol and continues to boil for an additional 2 min.
Boils 12 cups of water in 29 min Rolling Boil, steam pumpin the lid up, using 3 ounces of denatured. Continued to boil an additionl 5 min.
I used a 12 cup aluminum pot as shown in photo. Because the stove boiled for an additional 5 min, I think it will boil 16 cups(1 gallon) using 3 ounces of fuel. That's efficient.
The stove burns at a steady rate, no indication of fuel heating up and burning at a faster rate.
Stove accomodates the Heinekin pots nicely and works great with the bigger 12 cup capacity pots.
Will do further testing this weekend.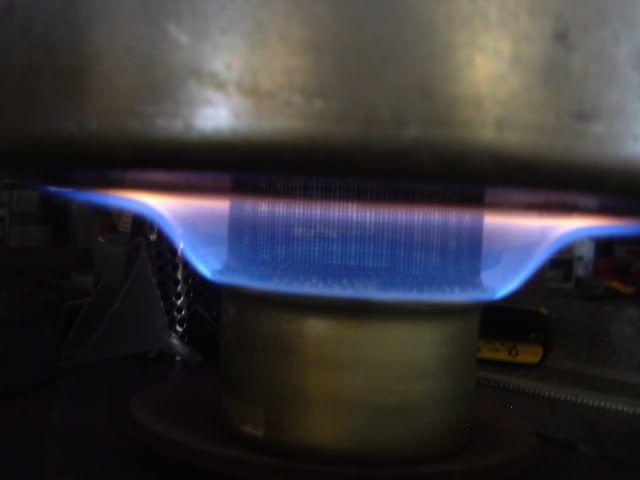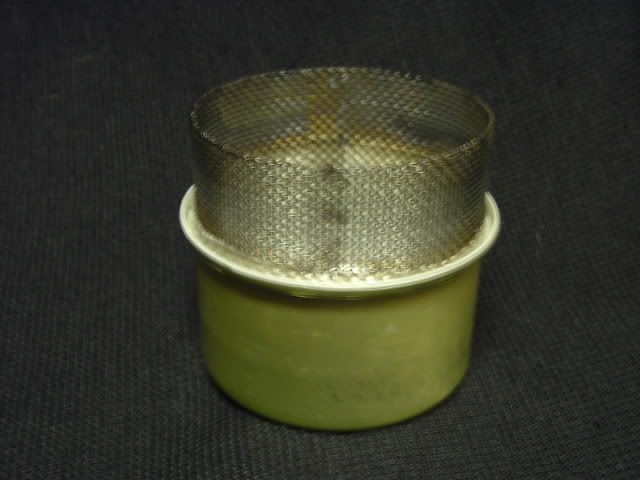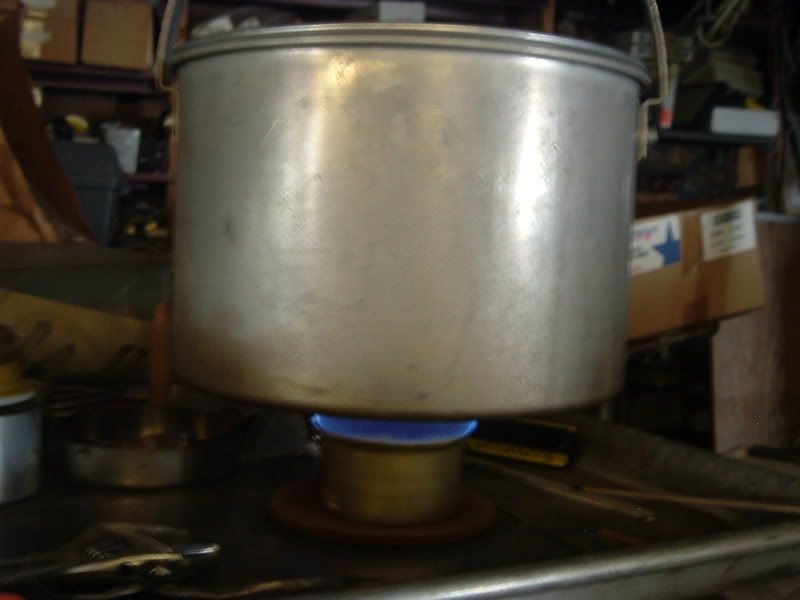 I tried boiling 16 cups in the Heineken Keg(steel)
I was not able to boil using the 3 ounces of fuel. My wife kicked me out of the kitchen on the first try in the middle of the test (photos are inside)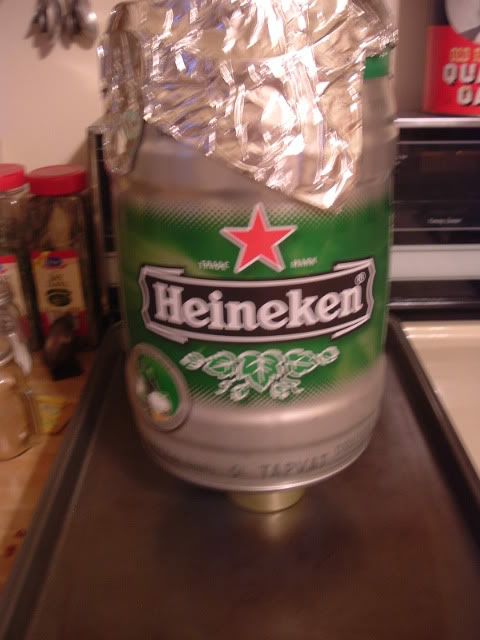 the keg has one gallon of water in it, the stove has strength.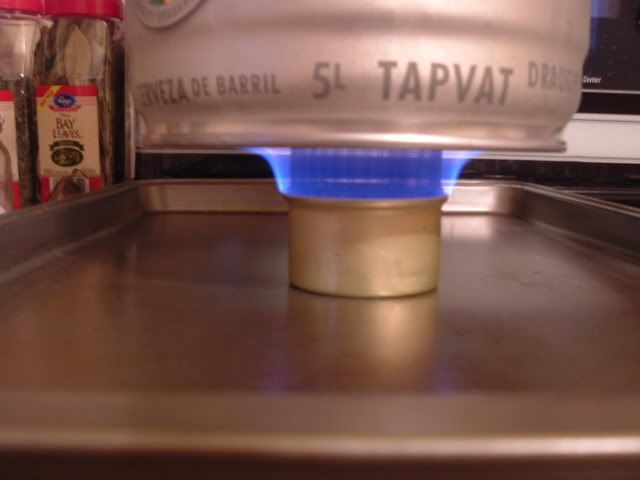 the flame pattern you see here remains the same throughout the 3 ounces of fuel.
Second try was outside under very breezy conditions without the best of windscreen. Flame was tossed around alot. At the end of 34 min and flame out, the water temp was 190 degrees.
Third attempt was using a larger aluminum pot. 3 ounces of fuel boiled the water in 34 min(soft boil) barely made it. Flame went out 15 sec. later.
Max fuel capacity for the stove is 3 ounces/ 90ml
Stove needs no primer pan and contains it's own potstand.
Weighs 24 grams and is very stable for it's size.
--------------------------------------------------------------------------------------------------------------------------------------------------------
Update: September 12, 2007
I tried 2 layers of aluminum screen door fabric instead of stainless steel. It does'nt work, heat distorts the mesh.
I tried the stainless steel mesh used for the aftermarket lantern globe replacement thingy. Works just fine. 5.00 bucks at Kmart.
I'm going to increase the height of the potstand material to narrow down the flame pattern. I'll keep you posted.
Let me know if anyone has made one of these.