Ridgerunner wrote:

Wow. Now that's a gnarly stand. I'm impressed.

What's the diameter of your new tin, Ridgerunner?

The stand idea came from you Skids. I used the bud bottle as it fits the bottom of the Heine Pot like a glove and is a bit sturdier.

The tin is 40mm or 1.5 inches. they make them here in Ohio. Unfortunately, you have to be a chain store to order them from the factory with a minimum $200 order. I found them clearanced at a local craft store and went to 3 stores to find a total of 5 packs of 12. I think there are 2 more stores in southern Cincinnati. I might have to make a trip to see my daughter down there to see if they have anymore left.
Yeah, I knew that.
Wanna know about the Bud bottle stand I personally use?
-Cut 1 3/4" off the bottom of a Bud bottle
-Use a hole punch to remove most of the bottom
-Remove the rest of the material with a Dremel rotary file(fourth from the left):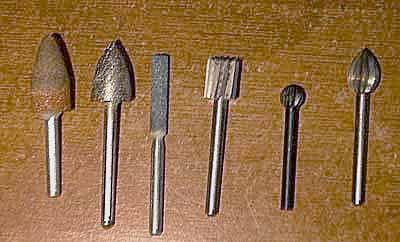 -Cut your side design with a Dremel Diamond blade.
This stand will last. The top(or bottom of the bottle)is thicker and takes all the heat you can throw at it and still only weighs @ 5 grams.