I subed a youtuber and found this on his channel
http://www.youtube.com/user/iawoodsman
http://www.woodgaz-stove.com/
---
This guy is good at this stuff.


---
Posts: 5276
Joined: Wed Sep 19, 2007 9:08 pm
Location: SW, Ohio
Contact:
Love those winter woodburning tent stoves! Thanks for the link Zelph.
"Many of lifes failures are people who did not realize how close they were to success when they gave up".....Thomas Edison
"
Live Life....Love Life....Ask More !
---
Yeah, makes me want to set up a tarp tent and do some smokin!!!! wood burning
It will give me an opportunity to use the stove I built last year.
http://www.woodgaz-stove.com/
---
I noticed he used an inexpensive 8" steel stovepipe for the stove body.

He didn't give much detail about how he did the ends to have a nice press-fit.

I do think he should have a place on my "small wood stoves for 'hunter's tents'" thread.
---
Posts: 5948
Joined: Tue Feb 24, 2009 2:20 am
Location: slightly north of Seattle,WA
viewtopic.php?f=60&t=4793
I think the pipe/parts costs are there..
The factory end pieces are tight enough to use as they are..or you can bend them slightly out of round,or crimp them for an even tighter fit.. or a few screws.
One I made was like that but out of 6" pipe..but a bit more elaborate.The front just slips on and off with about 1" of lap.A lock lever could be added to the top to hook on a screw like the other stove below.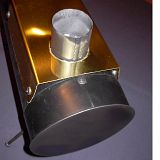 And the stainless one..the threads/posts/methods are on this site somewhere from last year if anyone is interested in building their own..from stove pipe..or a stainless toilet plunger container,hinged door as below.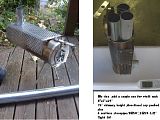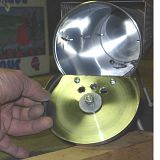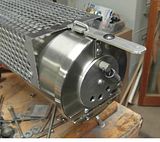 The views and opinions expressed by this person are his own and not the general consensus of others on this website.Realityguy
---
Those are elegant.

I like the brass one.

They do seem too pretty to use. Have you burned wood in them?


Thank you for that link. I think I could do that with stove pipe "end caps".

I know there is a Lowe's in Oregon. I suppose other stove pipe suppliers have the parts.
---
Posts: 5948
Joined: Tue Feb 24, 2009 2:20 am
Location: slightly north of Seattle,WA
I burned the stainless one..worked fine except for probably a loss of heat for cooking with the "holey" metal cook plate.I'd go solid the next time like I did on the brass cooktop.Lowes does sell the steel plate for the cookplate.if you read the beginning of the thread and the "3 pin" door latch system(twist the end cap 1/2" or so to remove it with some 'L' shaped slots in the cap(slide it on in line with the pins,then small turn to lock it on)..that's another option for a latch system.
The piping makes a good quality stove and the pieces are readily available at Lowe's.I used the 6" because of its "back-packability" and the stove was for a small less-than-50-square -oot tent.i don't want to sleep outside because of too much heat put out by the stove.If I wanted to heat 80 square feet or so,I'd use the 8" pipe as the T or straight pipe for larger pieces or more wood.
Dan brought up the idea with the new video..so I resurrected it again so people had some idea of costs,ideas,etc..for making 'tent' stoves.Others were made last year(RR,Dan,others) with different concepts for the stoves..5 gallon cans,stainless trays,etc.
Would I buy a factory made one for several hundred dollars?..No way!First of all..I"M CHEAP!.
.Second..I enjoy making my own gear.
.Third..I wouldn't use it enough to warrant buying one.
.Fourth..
In my opinion
...Most are way overpriced for some simple forethought and easy construction.
Titanium?.
. adds to the cost.
.I understand that,but I can see building 5-7 "pipe" stoves for the cost of
one
titanium one.To me that price difference isn't warranted to buy one..Again,that's
my
opinion...Anyone else is welcome to go
buy
one!The tools needed,materials and their costs,methods for parts,etc..are all in the thread for people that want to make one.
I've made the silicone tent chimney outlet portion(cost $3-4 at a thrift store) and have found a second silicone angel food cake pan..just need to do a test burn with it on the pipe..before cutting the tent and sewing/siliconing the outlet to it...maybe this January.
The views and opinions expressed by this person are his own and not the general consensus of others on this website.Realityguy
---
I will look at those threads in this forum.

The only titanium part that makes the most sense, to me, is the roll-up titanium stovepipe held together, I suppose, by swaged stainless wire. It looks so easy to pack.
---
Posts: 5948
Joined: Tue Feb 24, 2009 2:20 am
Location: slightly north of Seattle,WA
here's one of the two chimney outlets I have to play with..someday I'll get it tested and installed...plus i get lots of silicone for hotpads or other projects from what I cut off with scissors.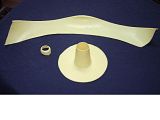 Yes..the titanium chimney is interesting in that it rolls..and could be rolled in,or around a stove pipe stove.One galvanized downspout is less than $10,the homemade adapter to the stove from that,the top cap made from that..and a 45 degree adapter about $5.With the silicone chimney outlet..about $20 total for the entire chimney.
A person could probably buy a roll of galvanized "flashing" and make the same rolling chimney as the titanium one,with using some loops of wire.For people that are concerned about it..once the galvanized chimney is burned once,it more than likely wouldn't smoke anymore or could be painted black with stove paint..I'd fire it up first outside to burn anything off of it.Painting the expanded rolled pipe in the up standing position..makes it easy to paint and stand it up identically a second time by matching the paint lines..or coat the entire thing.
The views and opinions expressed by this person are his own and not the general consensus of others on this website.Realityguy
---