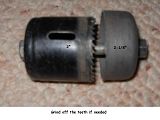 Cut a 3/4" wood hole plug with a 2" hole saw and another with a 2-1/8" holesaw.
Then take the 2-1/8" hole saw and grind the teeth off of it..the 2" hole saw will fit inside the 2-1/8" if the
teeth are barely ground on the outside edge..making them flush to the main body of the holesaw material
.Using a 5/16" or 3/8" bolt,the parts can be assembled to punch holes in aluminum and maybe thin stainless with
the wood inside "plugs" used for alignment purposes
as long as they are probably 1/4" from the outside ends so the pieces will interlock/overlap cutting the portion of the metal out.
of course you'll need to drill the hole through the material.
Any two holesaws 1/8" apart should work with doing a little
tight
fitting and grinding teeth off the outer one to keep the area smooth around the hole.Since a 2-1/8" is a standard door knob hole I have lots of them and I don't mind grinding one.It's probably the most common size out there.It's also a good size for feeding wood into a wood stove.
No..I didn't cut the wood alignment plugs..leaving the house but will do it when I come back ...and test it out.The alignment is important.The deeper the hole saws and thicker wood inside the better the alignment of course..as long as the pieces can interlock 1/4" it should work fine..or you can go pay Greenlee $50-100 for one..