New stove idea...
For people that don't know me well...This is my latest stove,Sheba 2,made up yesterday over a period of an hour and a half or so(while waiting for craigsters to show up):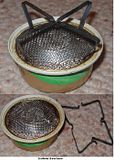 Basically.. a 2oz(I'm not a gram weenie rather have something that fits my needs)two stage wick burner with a removable potstand that I can use any pot on,or any combination of kitchenware for the purpose I need(pudding ring set,stainless decanter w/double deep muffin set,larger pan,frypan,my 2 or 3qt aluminum bear container,etc).I try not to limit my burners to one purpose and what goes on top of them.
This had an outer burner ring about 2" in diameter for boiling and high heat and also an separate inner burner approximately 1" in diameter for a light simmer,however the inner burner "well" for fuel is about 1-1/2" across to hold more fuel for a longer simmer mode when needed.The inner burner head can be easily changed to a larger diameter just by a little sanding of the top rim to say 1/4" wider if the heat factor isn't quite high enough for my needs(I haven't fired up the simmer mode in this stove yet.
Boil times/fuel(16oz water,60 degree) seem to be about 5/8 oz heet with 7-1/2-8minutes.
The potstand is removable to make the stove more compact.
I could probably raise/lower the potstand for a more efficient burn,now about 1" above the burner,however it seems to shift modes better at this point so I'm keeping it there.
Materials:1 sheba cat food can,1 inner "milk talc" aluminum bottle(rite-aid) using the top and bottom thirds,fiberglass cloth wicking, some stainless mesh from an old kitchen sieve, and the potstand is made from the metal piece under the sieve that protected the mesh from getting bent up..No jb weld,etc..so I can dismantle any replace anything that ever needs to be replaced(say if you step/fall on the sheba can during a long thru trek,easily fixable)..as I usually make my stoves.